| | | |
| --- | --- | --- |
| | Two Outrages and a Montauk (Phil T's Personal Page) 03/27/2005 | |
On New Years weekend 2017, I adopted my 3rd Boston Whaler and my second Outrage 17.

It is a 1992 model with a 1992 Evinrude 115.

I plan a stem to stern update including hoses, wiring and cleaning. First thing on the list is a new trailer.

On the day I brought her home.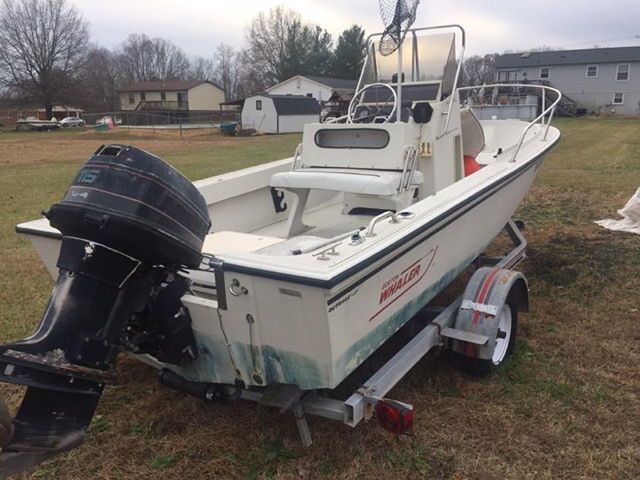 Past Boats:

1991 Outrage 17:
2003 Yamaha 115 4-stroke
2003 Loadrite trailer

Purchased: Fall 2005
SOLD: Summer 2012

During the sea trial on the Nansemond River (South of Norfolk,VA) in September 2005 (84 degrees).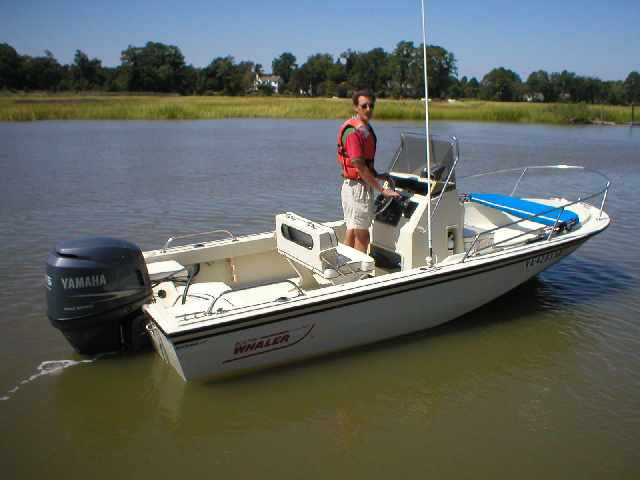 In Virginia Beach at the start of my 700 mile trip home.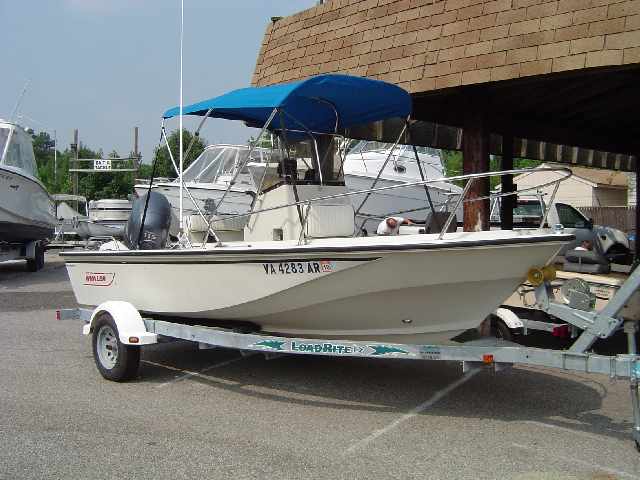 Attending the 2009 Manhattan Boston Whaler Run
My boat is in the second from the left.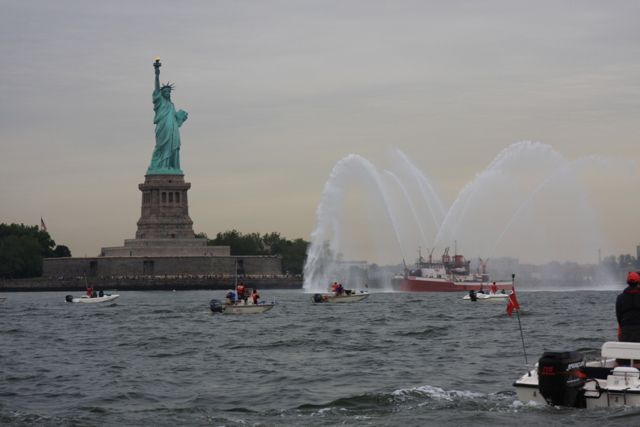 First day of 2009 season - March 8. 38 degrees and no one out at all. This is one of the half dozen calm days we get all year.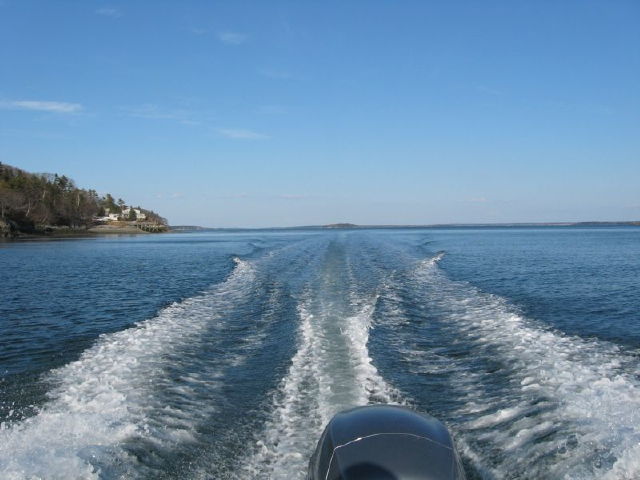 Getting a bit of air - 2008 Piscatisqua Gathering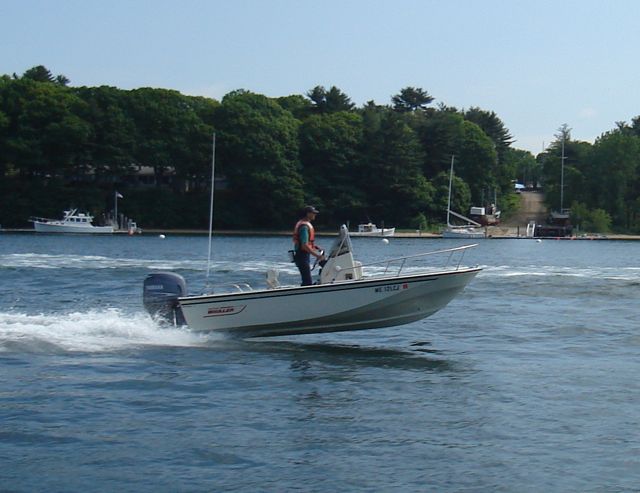 I redid all the wiring in the console, added bus bar and installed new panels. Moved gauges and added horn, 12v.

New Wiring: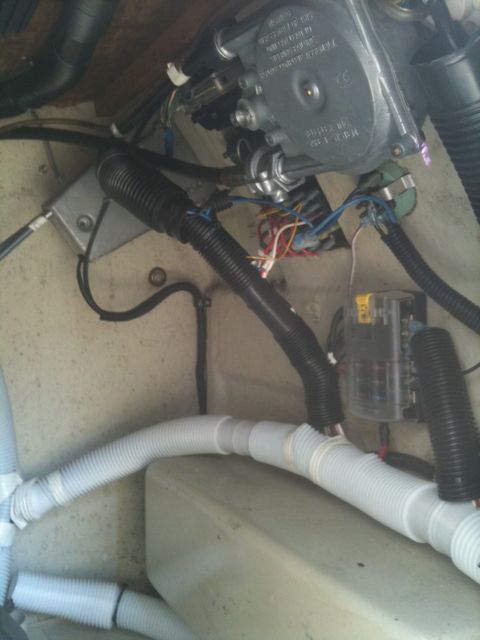 New OEM Instrument Panels and reorganized gauges and switches.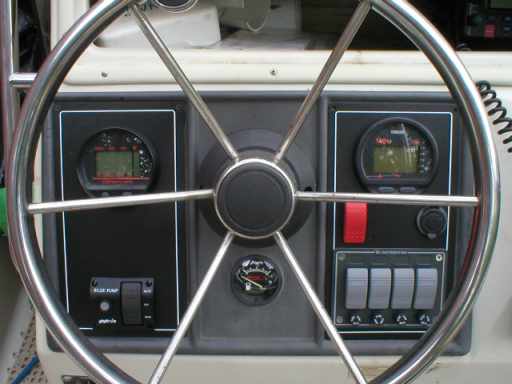 Added Dri Dek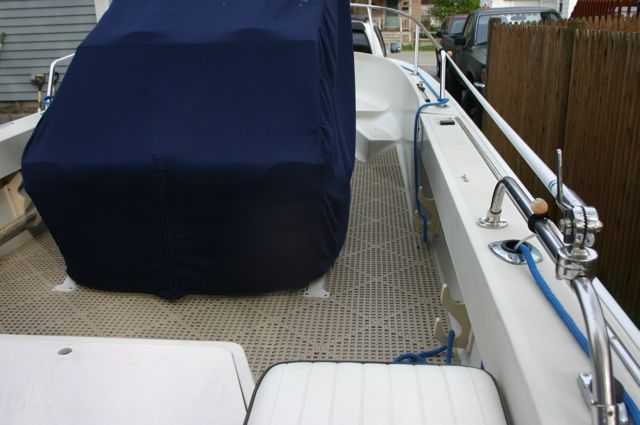 Relocated VHF on a rail mount and installed OEM Yamaha rigging hose.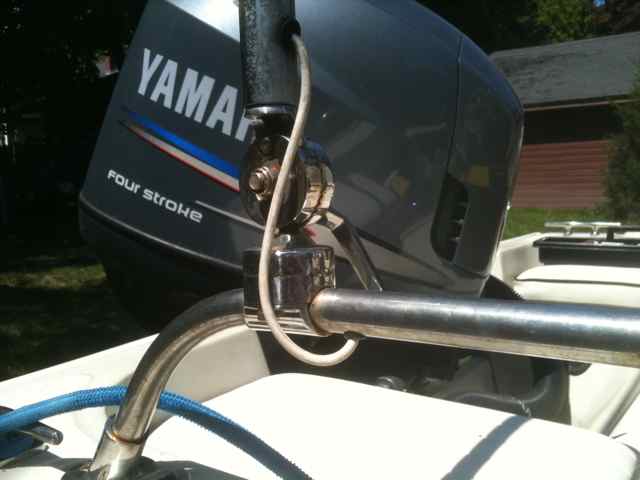 2011 Enhancements

Moved Battery to the console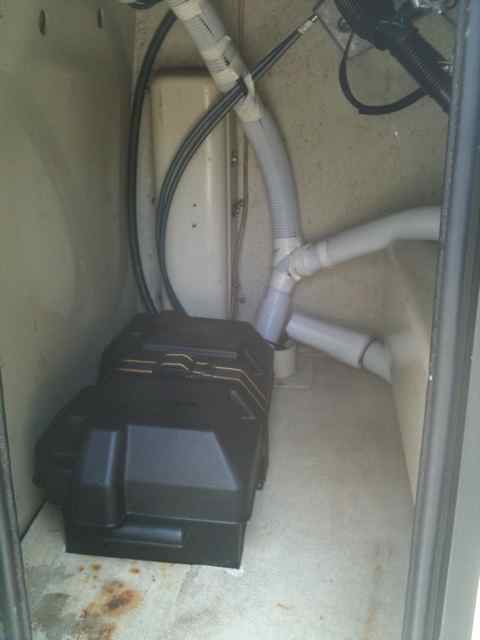 Added 3 ft swing away trailer extension to existing tongue:



Winter frame: I use all the boat lines to secure the frame. The one year I did not, a Nor-easter destroyed the frames and tarp due to the 70 mph winds.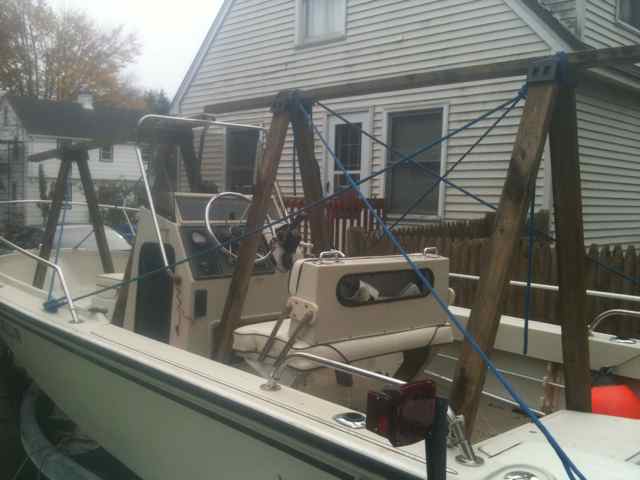 Comparing a classic Montauk and Outrage 17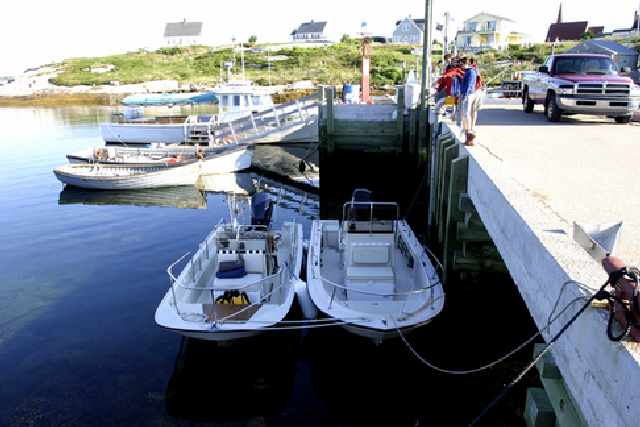 Whaler Gatherings:

Manhattan, NY 2009
Cape Ann, MA 2008
Piscatisqua River, ME,: 2008, 2007, 2005
Lake Winnipisauke, NH 2004
Merrimack River, MA 2007, 2005, 2004
Isle of Shoals, NH 2004
York River, ME 2008, 2006

For photos of the boat and all the whaler gatherings:
http://picasaweb.google.com/CascoBayOutrage

1987 Montauk 17
1987 Yamaha 90 hp

Purchased April 2003
SOLD Fall 2005

Anchored off Jewel Island, Casco Bay Maine with my brothers 1984 13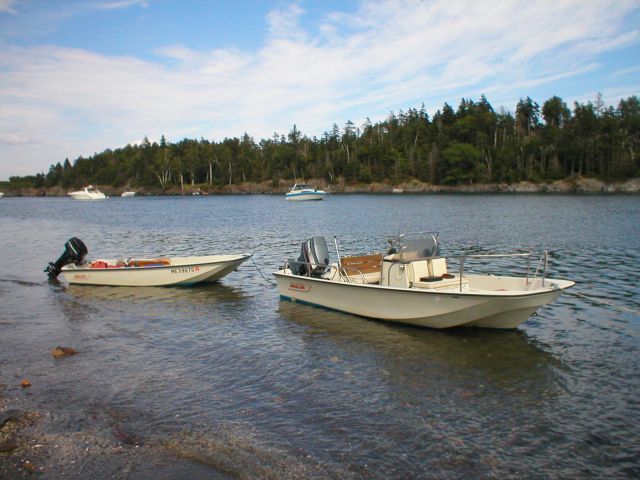 Restoration Highlights:

- New OEM windshield and Z legs (group buy)
- New Igloo Marine 94 qt cooler
- Rod and cooler cushions from Halls Nautical
- Dri-Dek on floor Link to their website
- Raised RPS on composite lumber
- OEM Perko pole (no photo) via Sue at Twin Cities Marine
- Tempo 26 gallon tank (2nd hand from a CW member)
- New gauge panels and switches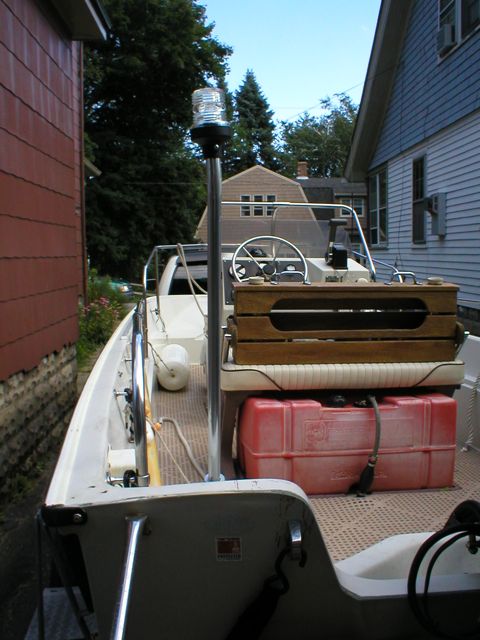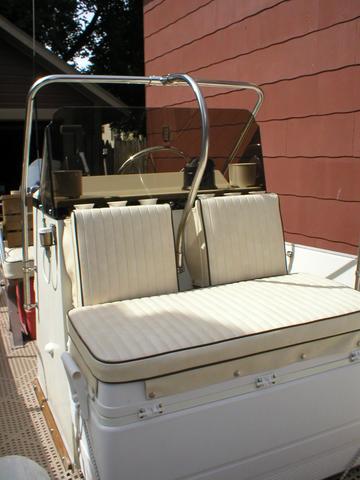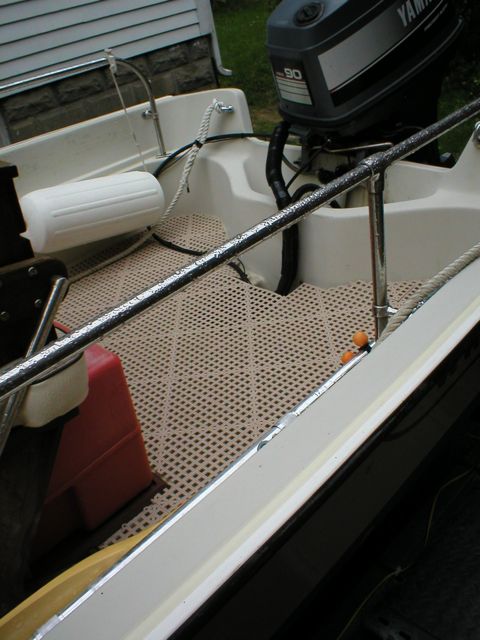 Date Posted: December 11, 2005 - 4:37 PM


The Dri-Dek was probably the best improvement I did. It keeps the deck free from dings and dirt. It feels good on bare feet. I love knowing you can jump in wearing any kind of shoes or sandy feet. I plan to do my 1991 Outrage this spring as well.
Date Posted: November 3, 2006 - 5:37 PM


Phil, that is a real good looking early Outrage 17' you have. I don't see them very often in that condition and with a new engine and trailer.
Date Posted: July 2, 2007 - 2:11 PM


Phil I just bought a 94 17 Outrage, and am looking at a Suntop. My boat has the factory leaning post, instead of an RPS. Can you stand up with your sun-top up and not hit your head. I am 5ft 11.
Date Posted: April 27, 2008 - 5:33 PM


hey..nice looking boat...I have a 17 ft model as well..1999 with a 115 merc..I was wondering if you got a different prop or just stuck with the factory one??? I was looking into getting a different prop and wondering if you had any suggestions?? thanks
Date Posted: September 30, 2008 - 3:27 PM


Wow.....great photographs under power Phil.....where did you get those?
Date Posted: May 2, 2009 - 12:30 PM


You did a fabulous job with the boat...congratulations.
Date Posted: June 15, 2014 - 12:21 PM


Good looking out thank u so much
Date Posted: April 20, 2016 - 3:36 PM


Nice Whalers! Like the swing away tongue extension, where did you pick that up Phil?
Date Posted: April 20, 2016 - 4:51 PM


Too funny! Just noticed you picture off Jewell Island! If you google earth Jewell Island I just happened to be caught in the satellite photo on the most recent pic they have! Zoom in on the boat closest to the pilings, it's my 1979 Revenge with and inflatable tended tethered up, I must have been aboard I was there for 3 nights that weekend! Small world for sure Phil!
You must login to post a message.
January 21, 2018 - 6:38 AM
---
·

Guests Online: 7


·

Members Online: 1


·

Total Members: 38,923

Not a member yet?
Click here
to register.
Forgotten your password?
Request a new one
here
.